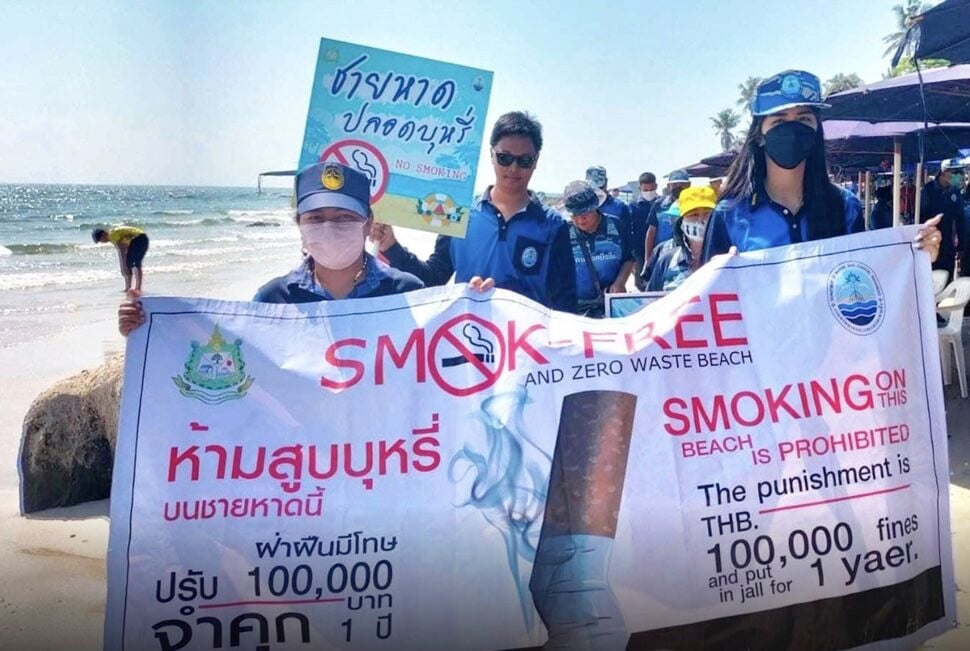 Hua Hin Beach anti-smoking campaign, photo by Hua Hin Today.
Hua Hin authorities aren't playing around about keeping Hua Hin Beach clean.
Authorities have launched a new campaign to discourage smoking on the beach, warning that anyone caught lighting up could face a fine of up to 100,000 baht (roughly £2,200) or up to one year in jail. On Thursday, officials visited the beach and walked around with warning signs in Thai and English.
The "Smoke-free Beach" campaign, spearheaded by the Department of Marine and Coastal Resources, Region 3 (DMCR3), aims to highlight the dangers of smoking on the beach, both in terms of public health and environmental impact.
As part of the initiative, designated smoking areas have been set up at various locations along the beaches in the area, with DMCR officials urging smokers to use them, Hua Hin Today reported. Tourists and other beachgoers were also reminded of the smoking ban and informed about the rules regarding smoking on the beach.
In addition to raising awareness about smoking, the campaign also included information about the risks of jellyfish in the sea. The months of January to March are considered high season for jellyfish in the area, and officials are encouraging tourists to be cautious while swimming.
As part of the campaign, basic first-aid instructions for dealing with jellyfish stings were provided to business operators, hotel staff, tourists, and members of the general public.
The Smoke-Free Beach campaign was previously launched on Khao Takiab beach earlier this month. Both initiatives aim to keep the beaches clean, protect public health, and raise awareness about environmental and safety issues.
The Smoke-Free Beach project is part of a larger effort by the Thai government to protect the country's marine and coastal resources. The government is working on implementing stricter regulations on plastic waste and encouraging sustainable tourism practices.
Hua Hin is a popular beach destination located in the Prachuap Khiri Khan province of Thailand. Despite being a beautiful and well-known tourist destination, Hua Hin's beaches have the same problems with pollution as many areas of Thailand.
Along with the DMCR, other groups are also working to keep Hua Hin beaches clean. The volunteer group Trash Hero Hua Hin does cleanups at various beaches.
Hua Hin is not the only spot in Thailand where people are working to keep beaches clean. Last week, officials and volunteers cleaned up 100 kilograms of garbage from beaches in Phuket.