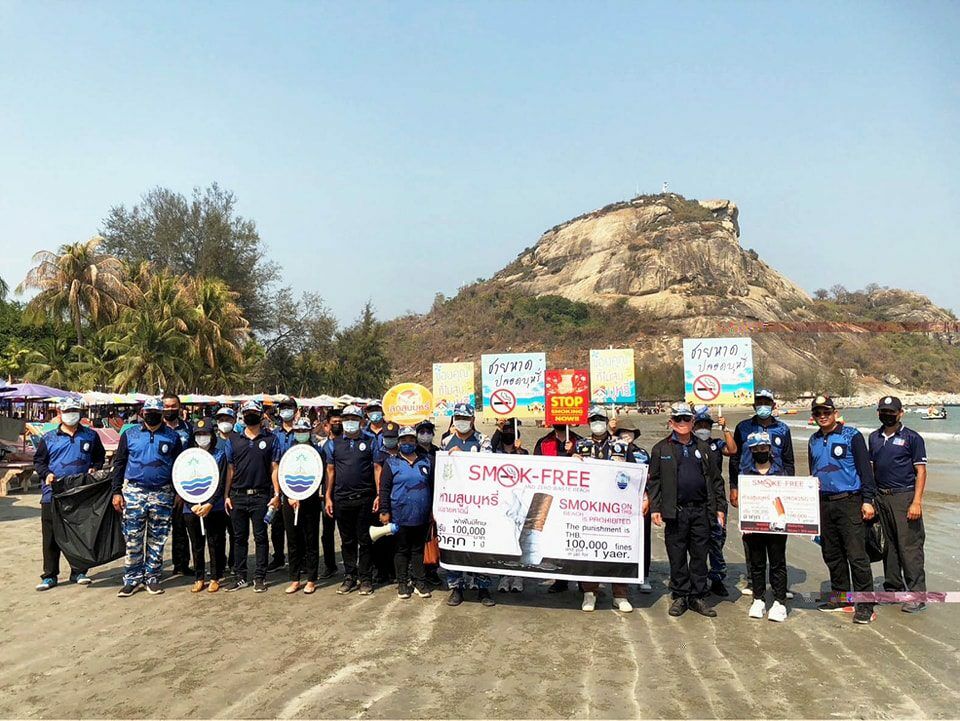 Smoke-free project in Hua Hin, photo by Hua Hin Today.
Two campaigns dedicated to different causes took off at a Hua Hin beach on Tuesday. Officials launched an anti-smoking campaign, as well as a jellyfish awareness campaign.
The Smoke-free Beach project, and the jellyfish awareness campaign, were launched at Hua Don beach in Khao Takiab. The campaigns aimed to educate tourists about the harmful effects of smoking on the environment, as well as raise awareness about the dangers of jellyfish in the sea.
The Smoke-free Beach project, initiated by the Department of Marine and Coastal Resources, Region 3 (DMCR 3), seeks to reduce cigarette litter on beaches and promote designated smoking areas. To achieve this goal, the DMCR 3 team distributed pamphlets and flyers with information about the project, warning tourists that smoking on the beach is punishable by fines of up to 100,000 baht and/or up to one year in jail.
The Smoke-free Beach project is part of a larger effort by the Thai government to protect the country's marine and coastal resources. The government is implementing stricter regulations on plastic waste and encouraging sustainable tourism practices.
The DMCR also warned tourists to watch out for jellyfish in the sea, Hua Hin Today reported. The sea is filled with jellyfish from January to March due to the strong waves and currents. Tourists therefore must be cautious when enjoying the waters.
The DMCR gave first aid instructions to local business owners, hoteliers, and tourists. These instructions detailed how to properly treat jellyfish stings, including rinsing the affected area with vinegar and seeking immediate medical attention.
Officials from Hua Hin Municipality said that if a tourist gets stung by a jellyfish, they should quickly use the vinegar solution that the municipality has provided at various points on the beach to treat the affected area.
Hua Hin isn't the only spot in Thailand where jellyfish have been making their presence known recently.
Last month, Phuket officials warned tourists to beware of potentially dangerous jellyfish while enjoying the island's beaches. The warning came after more than 30 visitors reported being stung by jellyfish at Kata Beach, with most experiencing mild symptoms.
Phuket Marine Resources Conservation director, Suchart Ratanruangsri, advises tourists to pour vinegar on the sting for at least 30 seconds if stung by a fire jellyfish. He warned, however, that pouring fresh water or alcohol on the sting will only make the pain worse.
If a Portuguese jellyfish is the cause of the sting, people are advised to clean the wound with seawater or beach morning glory, instead of vinegar or fresh water.
Thailand is home to many species of jellyfish, including Morbakka fenneri, better known as fire jellyfish. This breed of jellyfish doesn't get its name from its pinkish-red colour, but from its potent sting.