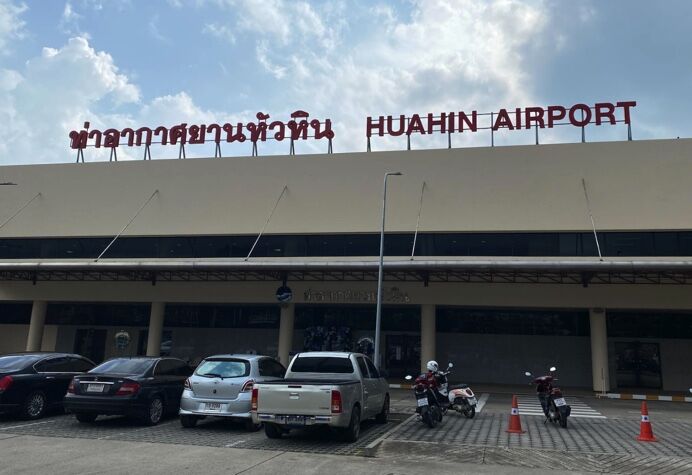 Hua Hin Airport, photo via Hua Hin Today.
The number of international flights to and from Hua Hin Airport is expected to increase in the near future, according to John LaRoche, CEO of the Phoenix Group, which is leading the upgrade of the airport.
Speaking at the recent meeting of the Royal Coast Riviera Club on Friday, April 21, LaRoche said that despite various setbacks, including the pandemic, more international flights were expected to arrive later this year. He said…
"My personal opinion is that we will see the first international flight land just after the election, although I won't speculate on the significance of that date."
Thailand will hold its general elections on May 14.
The Phoenix Group has used the pandemic period to make several improvements to the airport to accommodate more flights, such as the construction of a perimeter fence to ensure security and the widening of the runway to meet international safety requirements.
The government has already allocated 750 million baht for further improvements, set to begin in 2024, Hua Hin Today reported. This will see a significant extension of the main terminal building, including the construction of an additional gate to accommodate both domestic and international arrivals.
LaRoche said that once the airport is fully operational, the MOUs that are already in place with several airlines, such as Go First from India, Great Bay Airlines from Hong Kong, and China Express from China, would represent approximately five international flights per day arriving at Hua Hin Airport by the end of the first year. There is also an MOU in place with Nok Air for flights to Singapore and Phuket.
The international destinations are within an approximate five-hour radius of Hua Hin, which would enable A320s or 737s to land at the airport.
LaRoche also expects AirAsia to resume its flight between Hua Hin and Kuala Lumpur in the near future. He said that he anticipates significant progress about more flights at Hua Hin Airport in the coming weeks. When the plans to overhaul Hua Hin Airport were first announced in 2021, it was expected that up to one million passengers would be arriving at the airport within three years.